News & Events
News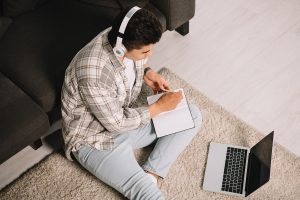 30/03/2020
Remote Teaching and Learning at The English College in Prague during the State of Emergency
The English College in Prague is heartened by our community's extraordinary response to the current COVID-19 situation. We have great feedback from students and parents on how this has been working.
Read more.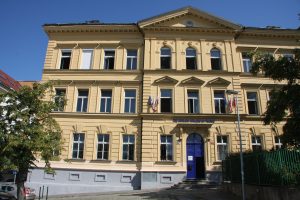 10/03/2020
School Closure due to coronavirus measures
In line with instructions from the Ministry of Health, the English College in Prague is closed to students from 11 March 2020. We will keep you informed on the development.
Read more.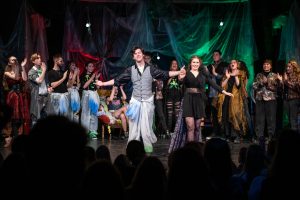 06/03/2020
Romeo & Juliet performance
Kind thanks from the Arts Faculty to all students involved in the Romeo & Juliet production, and to all who came along to support. This was a combined creative effort involving Drama, Dance, Music and the Visual Arts.
Read more.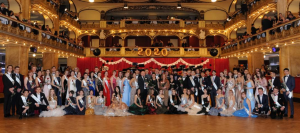 20/02/2020
New issue of the ECP Newsletter (Issue Eighteen)
Read the first 2020 issue of The ECP Newsletter in which we report about the Graduation Ball, the London Work Experience Programme and other events or activities.
Read more.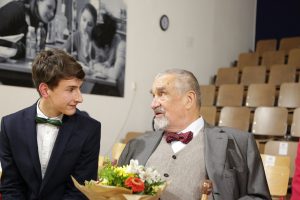 20/02/2020
ECP offers a new Schwarzenberg Scholarship
In its 25th anniversary year, the English College in Prague (ECP) is delighted to announce that its Czech Patron, Karel Schwarzenberg, has agreed to the use of his name in connection with a new Schwarzenberg Scholarship.
Read more.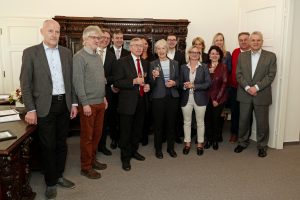 07/02/2020
ECP secures its future in Vysočany
The English College in Prague has bought its building in Vysočany and is looking forward to planning improvements to the facilities in the future.
Read more.

05/02/2020
ECP in MF Dnes daily in January 2020
MF Dnes daily quoted ECP Headmaster and ECP student in an article about the IB published on 31 January 2020.
Read more.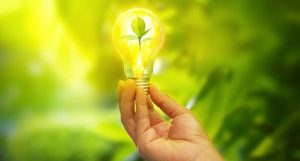 30/01/2020
ECP and renewable energy
The English College has set an example to individuals and other organisations by swichting to a renewable electricity provider.
Read more.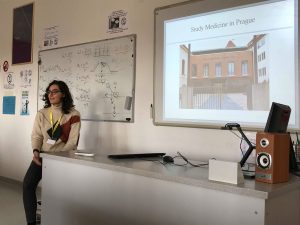 25/01/2020
A Career in Medicine
ECP alumni have been back into school to offer help and advice to current students thinking of pursuing a career in medicine.
Read more.
23/01/2020
A lecture on Mars
"What do we have to overcome to get to Mars?" That was the main question of the recent lecture delivered to ECP students by Mgr. Petr Brož, Ph.D., a researcher at the Czech Academy of Sciences.
Read more.
Events Calendar
Term Dates
Term Dates 2019/2020
| Term | Date |
| --- | --- |
| Start of Term 1 | 02/09/2019 |
| Half Term Holidays | 29/10/2019 - 01/11/2019 |
| End of Term 1 | 13/12/2019 |
| Christmas Holidays | 16/12/2019 - 03/01/2020 |
| Start of Term 2 | 06/01/2020 |
| Half Term Holidays | 17/2/2020 - 21/2/2020 |
| End of Term 2 | 05/4/2020 |
| Easter Holidays | 06-04-2020 - 17/04/2020 |
| Start of Term 3 | 20/04/2020 |
| End of Term 3 | 30/06/2020 |
Holidays 2019/2020
| Holiday | Date |
| --- | --- |
| St. Wenceslas Day | 28/09/2019 |
| Independence Day | 28/10/2019 |
| Student Holiday / Staff Training | 18/11/2019 |
| Freedom & Democracy Day | 17/11/2019 |
| Christmas Eve | 24/12/2019 |
| Christmas Day | 25/12/2019 |
| 2nd Day of Christmas | 26/12/2019 |
| New Year's Day | 01/01/2020 |
| Student Holiday / Staff Training | 31/01/2020 |
| Good Friday | 10/04/2020 |
| Easter Monday | 13/04/2020 |
| Labour Day | 01/05/2020 |
| Liberation Day | 08/05/2020 |
| Student Holiday / Staff Training | 01/06/2020 |
Term Dates 2020/2021
| Term | Date |
| --- | --- |
| Start of Term 1 | 31/08/2020 |
| Half Term Holidays | 26/10/2020- 30/10/2020 |
| End of Term 1 | 15/12/2020 |
| Christmas Holidays | 16/12/2020- 05/01/2021 |
| Start of Term 2 | 06/01/2021 |
| Half Term Holidays | 15/2/2021- 19/2/2021 |
| End of Term 2 | 26/3/2021 |
| Easter Holidays | 27/03/2021- 11/04/2021 |
| Start of Term 3 | 12/04/2021 |
| End of Term 3 | 30/06/2021 |
Holidays 2020/2021
| Holiday | Date |
| --- | --- |
| St. Wenceslas Day | 28/09/2020 |
| Independence Day | 28/10/2020 |
| Student Holiday / Staff Training | 16/11/2020 |
| Freedom & Democracy Day | 17/11/2020 |
| Christmas Eve | 24/12/2020 |
| Christmas Day | 25/12/2020 |
| 2nd Day of Christmas | 26/12/2020 |
| New Year's Day | 01/01/2021 |
| Student Holiday / Staff Training | 29/01/2021 |
| Good Friday | 2/04/2021 |
| Easter Monday | 5/04/2021 |
| Labour Day | 01/05/2021 |
| Victory in Europe Day | 08/05/2021 |
| Student Holiday / Staff Training | 03/06/2021 |
| Headmaster's Holiday | 04/06/2021 |
Overview of Lectures 2007 - 2019
| Subject | Name of the lecturer | Name of the lecture | School year |
| --- | --- | --- | --- |
| Politics/ Media | František Vrábel | Hostile propaganda and the Abuse of the Internet | 2019/2020 |
| Politics/ Media | Jan Bubeník | Velvet Revolution | 2019/2020 |
| Science/Technology | Mgr. Petr Brož, Ph.D. | What do we have to overcome to get to Mars? | 2019/2020 |
| Science/Medicine | MUDr. Martin Jan Stránský, M.D | Impact of technology on the brain | 2019/2020 |
| Literature | Dr Jitka Štollová | Shakespeare's Villains: Rebels against Nature and God | 2018/2019 |
| Environment | Stanislav Lhota, M.Sc., Ph.D. | Palm Oil: Future of Rainforests in Our Hands | 2018/2019 |
| Economy | Milan Bednář | Circular Economy | 2018/2019 |
| Biology/Enviroment/TOK | Luděk Brož | Boar Wars: Necropolitics of Resilience and Vulnerability in the Time of African Swine Fever | 2018/2019 |
| Politics/ Media | Bob Kartous | Media's Influence on Politics and Society: starting with the youth | 2017/2018 |
| Politics | Dr. Pepper D. Culpepper | Quiet Politics, Noisy Politics, and Populism | 2017/2018 |
| Economy | Tomáš Sedláček | The world today | 2017/2018 |
| Charity/TOK | Mudr Tomáš Šebek | Doctors without borders missions and leadership | 2017/2018 |
| Politics/History | Michael Žantovský | Czech and British Connections | 2016/2017 |
| History/Art | Dr Irena Edwards, Mr Petr Krpata | Conservation, protection and maintenance of cultural heritage in the Czech Republic | 2016/2017 |
| Literature | Mr Justin Quinn | What the Foreigners Really Think of Czechs, from Sherlock Holmes to the Daily Mail | 2016/2017 |
| ART | Ms Nika Kupyrova (ex student) | Occupation: artist | 2015/2016 |
| Politics | Mr. Erik Best | Europe's new challenges | 2015/2016 |
| Environment/Economics | Ing. Soňa Jonášová | Circular Economy - Current environmental problematics and possible solutions | 2015/2016 |
| Politics | Mr Karel Randák | Secret Services and Terrorism | 2015/2016 |
| History | Ing. Jan Kovařovic, an ECP governor, and his guests | The Prague English Grammar School – Our Older Schoolmates | 2014/2015 |
| Charity/ Medicine/Politics | MUDr. Tomáš Šebek | Médecins Sans Frontières - From Haiti to Northern Afghanistan | 2014/2015 |
| Politics/History | Mgr. Michal Vodrážka | Leaving North Korea – The "Defectors" | 2014/2015 |
| Politics/History | Ing. Petr Nosálek | Why is it Important to Know Our Own History? | 2014/2015 |
| Charity/Medicine/ | Anna Rausová, Hana Robinson, Jan Bárta | What It's Like to Live with Multiple Sclerosis or Multiple Sclerosis Is Not about Forgetting | 2013/2014 |
| Psychology | Alan Law | Dreams - a Psychological Perspective: Recent Answers to Old Questions | 2013/2014 |
| Literature | Dr. Gyorgy "George" Toth | The "American" Dream: Success and Failure | 2013/2014 |
| Charity/Biology | Arthur F. Sniegon | Kedjom – Keku: Building a School in Africa Is Not Enough! | 2012/2013 |
| Literature | Henry Eliot | Geoffrey Chaucer and pilgrimage | 2012/2013 |
| Politics/History | Toman Brod | Raoul Wallenberg | 2012/2013 |
| Charity/Geography | Mudr Šebek | Médecins Sans Frontière | 2012/2013 |
| Politics | American Embassy | USA INTERNATIONAL RELATIONSHIPS | 2011/2012 |
| Literature | Stephen Siddall | John Donne | 2011/2012 |
| Astronomy | Doc. RNDr. Vladimír Karas, DrSc. | BLACK HOLES IN THE UNIVERSE | 2011/2012 |
| Sport | Dominik Hašek, Jiří Ježek | OLYMPIC AND PARALYMPIC GAMES | 2011/2012 |
| Biology | Doc. Jana Albrechtová | Trees: the best air-conditioning ever invented! | 2010/2011 |
| Politics/ Army | Captain Magdaléna Dvořáková | Czech Army missions | 2010/2011 |
| Charity | Mgr. Jiří Královec | Hospice for Children - Joy and Pain | 2010/2011 |
| Literature | Thommy Cookson | Boswells' "Life of Johnson" | 2010/2011 |
| Politics and Law | David Ondráček, director of NGO, Transparency International | Transparency in Politics | 2009/2010 |
| Economy | Doc. Tomáš Sedláček | Economy of Evil and Good | 2009/2010 |
| Charity/Medicine | Mrs. Pavla Francová | How I see the world, while I cannot see - Anniversary of Braille | 2009/2010 |
| Literature | Prof. Hilský | W. Shakespeare´s Sonnets and translation | 2009/2010 |
| Politics/ Media | Mrs. Procházková, journalist | Role of media today | 2008/2009 |
| Charity/Medicine | Anne de Voil | Who is disabled? | 2008/2009 |
| Politics | Milan Horvát | Roma community | 2008/2009 |
| Literature | prof. doc. PhDr.Jan Čermák | Pleasure of translating - Boewulf in Czech | 2008/2009 |
| HUMANTIES Politics/Civics | Mgr. Martin Mejstřík (MP, student leader) | Senate in the Czech Republic | 2007/2008 |
| History/Politics | PhDr.Alena Hromádková | Helsinky accord and the growing movement of opposition in Central Europe | 2007/2008 |
| Charity/Geograpy | Mudr.Martin Jarolímek– doctor, Head of Sanatorium in Prague | Charity Work in Africa | 2007/2008 |
| Sport | Mudr.Lukáš Pollert . Olympics winner, doctor | Ethics in sport | 2007/2008 |