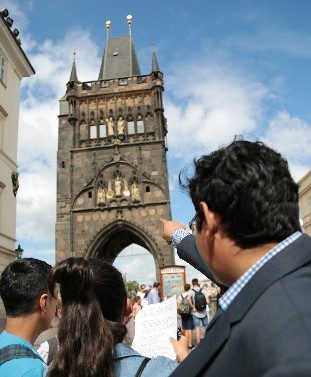 Prague is not only a beautiful city, which is now visited by thousands of tourists, it is also a city where you can see and feel not only the history of the Czech Republic, but also of Europe. King Charles IV made Prague the centre of Europe, founded a university here and built what was then a modern town.
To artists, Prague is a place of many galleries and amazing art collections of every period. It is a place that can serve as a textbook of architecture. Prague's museums house collections from every area of knowledge. Its public and botanical gardens are workplaces for academics as well as places for recreation. In other words, Prague offers endless possibilities for exploring and learning. This is why we established the Prague Programme and each department prepares a programme for students, related to Prague's unique facilities. Czech students visit the Kafka Museum, students studying Czech History explore Vyšehrad, the Science Department arranges visits to the Technical Museum or the botanical gardens, while Art students visit galleries and art workshops and a Prague treasure hunt is organised for Year 1 students.
By the end of their studies at ECP, our students therefore know Prague much better and also know a lot about Prague – which, as students of the English College in Prague, they should!