It was fantastic to be back in Betlémská kaple for the Class of 2022's graduation ceremony. The school band was a great addition to proceedings!
The ECP Graduation Ceremony serves two purposes: Graduates with outstanding achievements in both academic and co-curricular work during their IB studies are awarded prizes and all Graduates of 2022 are presented with their graduation certificates.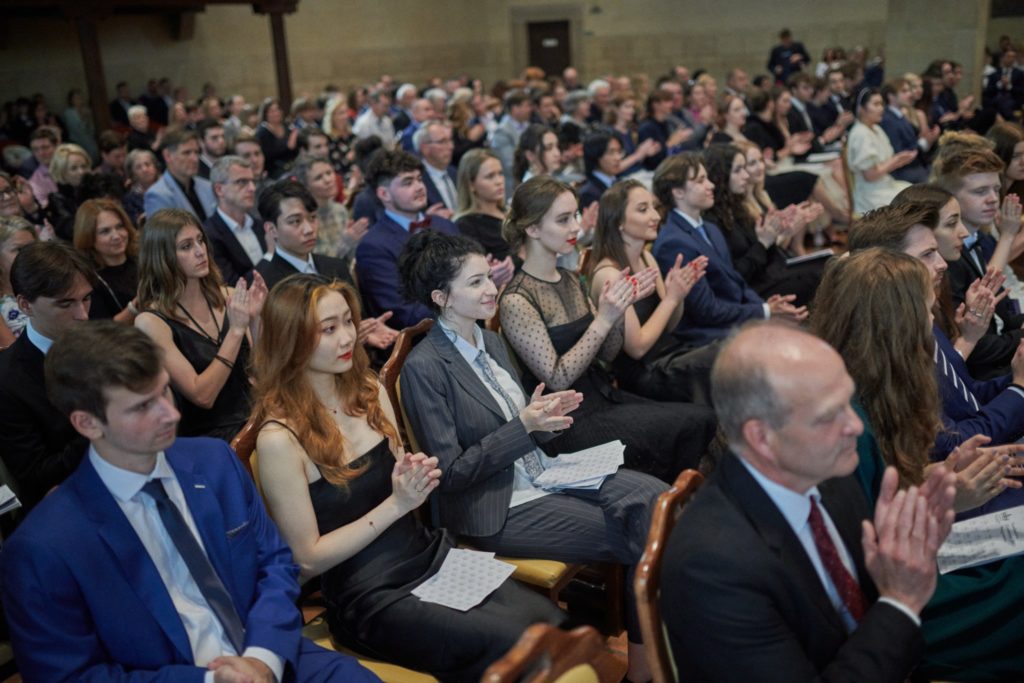 Senator Pavel Fischer delivered a speech as the Guest of Honour. He also congratulated prize winners.
Additionally, this year we were very honoured that the new Karel Schwarzenberg Prize for History was presented for the first time. This prize goes to a student who has shown exceptional interest in the history and spirit of European development. The prize recognises the ability to appreciate European heritage and to be able to analyse history and make connections with the current political scene. Michael Balamotis became the first holder of this prize.
Apart from subject prizes, there were also prizes for special achievements.


THE CHAIRMAN OF GOVERNORS' PRIZE FOR ACADEMIC ACHIEVEMENT
This prize was awarded to Sabina Phanová: "In terms of report grades and predicted IB marks, Sabina is at the top of her class. She works diligently with teacher and peer feedback to improve her performance on assessments; if she is not pleased with how she performed on a paper, she will ask to redo it until she achieves an exemplary result. Her easy-going demeanour camouflages a forceful drive to do her best; she is simply relentless in honing her skills and knowledge. Sabina's academic outcomes are a testament to her unflagging work ethic. She is also determined to stretch herself and achieve her fullest potential."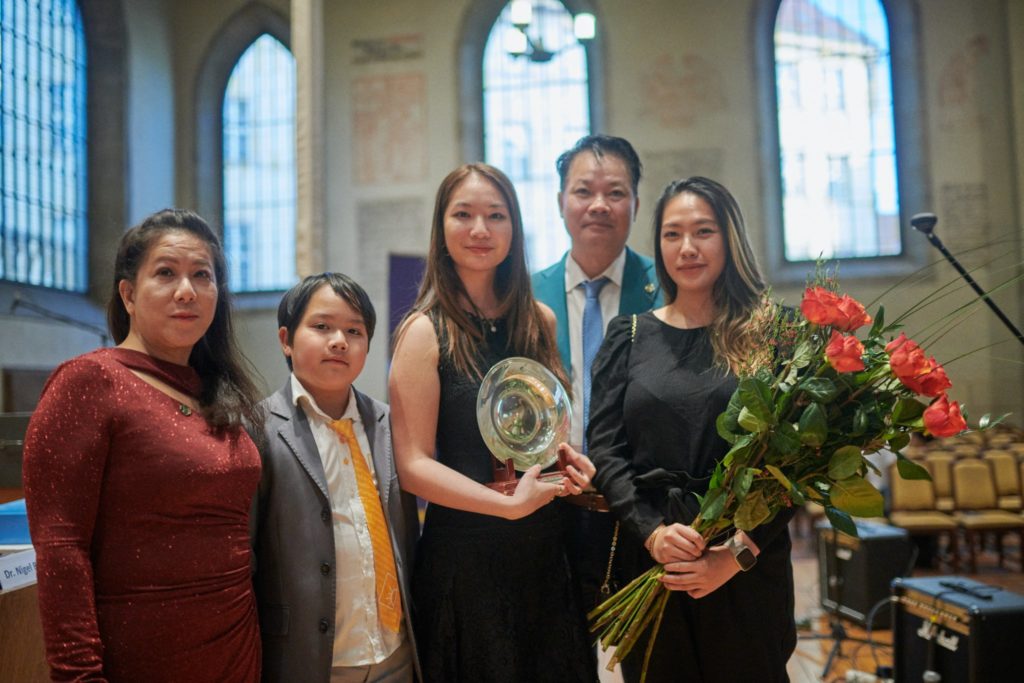 The LORD HOLME PRIZE FOR SERVICE TO THE COMMUNITY
Congratulations to Tomáš Nepala: "Tomáš is an active member and outstanding Vice President of the Student Council as well as a mentor to two Year 1 students. He has engaged very strongly with the school community and worked hard to bring everyone closer together during the pandemic. Tomáš cares about the world around him and has a genuine interest in making it better. He always seeks peaceful solutions to every conflict and is extremely kind and supportive of his fellow students. Tomáš worked very hard in support of the Tereza Maxová Foundation. In addition, he coordinated Dostupné Doučování, where a team of about sixty volunteers support socially disadvantaged students with remote learning.
A strong believer in financial literacy, he also launched a website, PlanetFinance, to educate individuals and help them develop the skills and knowledge. His aim was to enable them to make informed decisions about their finances. These projects encapsulate Tomáš's personality perfectly: he cares about others and he is ready to use his initiative to find ambitious solutions to problems."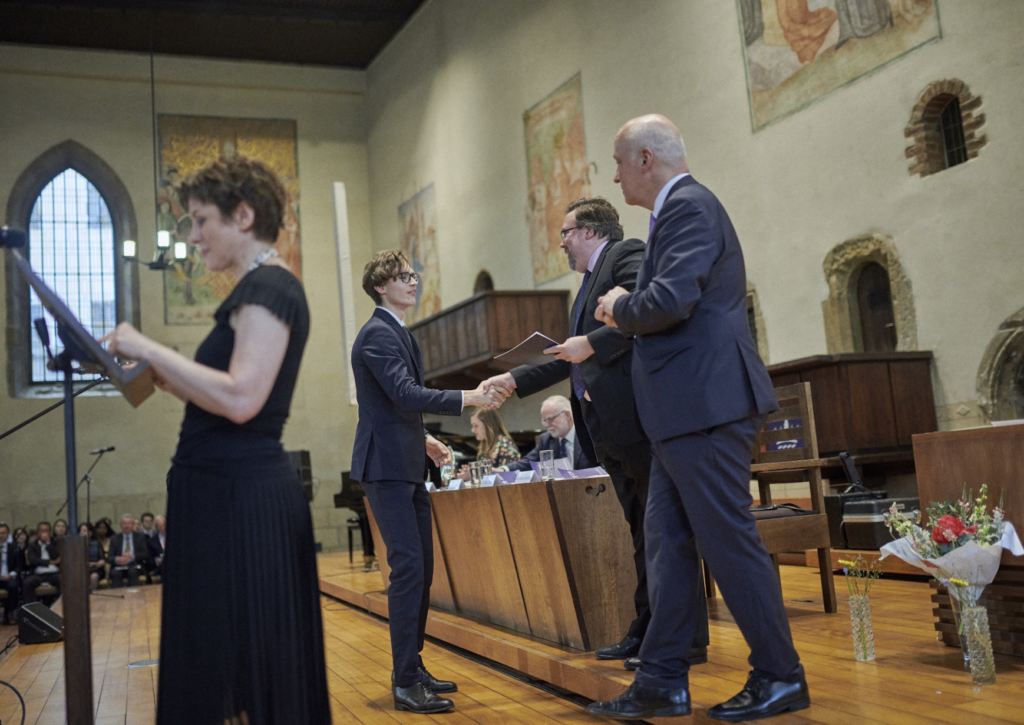 HEADMASTER'S PRIZE FOR THE SERVICE TO THE COMMUNITY
Olga Kosjakova became the holder of this prize: "Olga is a wise young woman and shows maturity and understanding of complex issues beyond her years. In lower school, she produced assemblies and resources related to mental health. She did that by engaging with the PSME programme and by talking to year groups about recognising a potential decline in one's mental health and wellbeing. Since then, she has continued to be very active in the background – not stopping at all, despite being in lockdown for almost two years of her ECP career. Last summer, she organised the production and sale of items to support the topic of mental health again. She is an unofficial adviser to many of her peers and she is a well-deserved recipient of this award."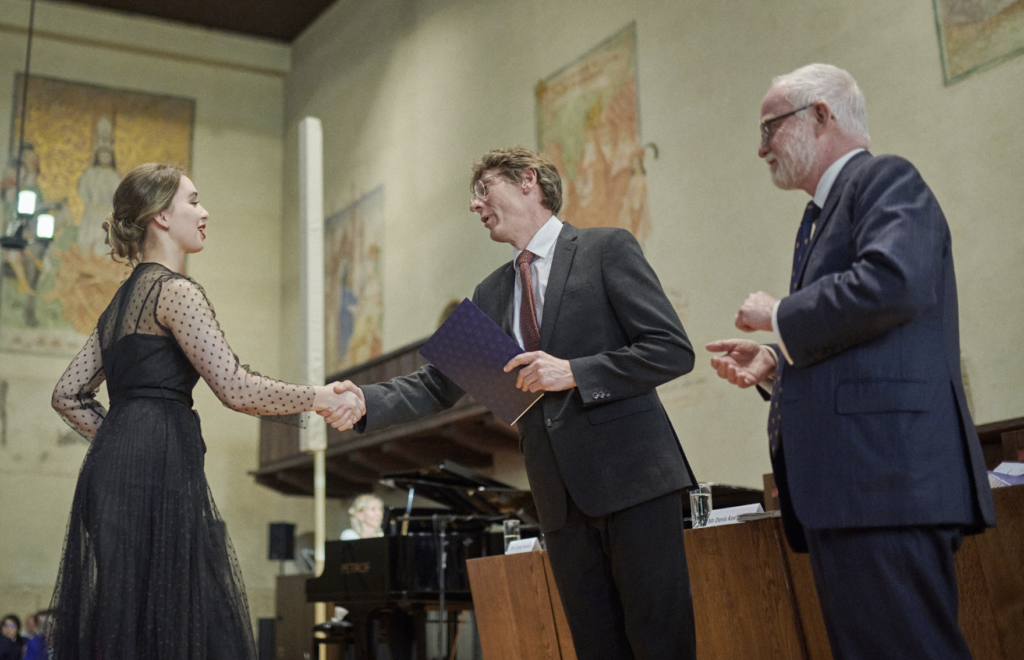 Here is a video from the event:/Zde je krátké video z akce: