Just three of the reactions to the ECP Václav Havel Scholarship concert last week. And they were right. But the concert was not only a great musical event. The donations have now been counted and the VHS team are delighted to announce the result. This year's concert has raised a very impressive 130,000 CZK towards a scholarship for a second Václav Havel Scholar! And the team wants to say a big 'thank you' to the whole ECP community for their donations.
Challenges
Kryštof Folbrecht, our Prince of Wales Scholar, was co-host of the concert. He says: 'Moving the Václav Havel Scholarship Concert online was obviously a big challenge for our team. But with every big challenge comes even greater opportunity. We had the chance to connect with musicians from so many different places and backgrounds. This made the concert much more accessible for everyone who wants to support this cause.'
Donations and support
'All the performers, teachers and students working on this project gave it their best. We are excited that people have again, if only metaphorically this time, come together to support the Václav Havel Scholarship. Thank you, we are very grateful for your donations and support.'
Breaking down prejudices
Selma Kaymakci, our other co-host, says: 'There has been so much work and effort put into this concert and Roma awareness week, from every single person on the team. We raised awareness and encouraged discussion within the school community about the importance of the project. This year, we really did not expect to raise such a large amount of money because the concert was held online. So I would like to thank everybody who has contributed financially. With your help, we are one step closer to reaching our goal and to breaking down prejudices.'
Thank you
'I would like to thank everybody on the team. Without them, the concert would not have been possible. Firstly, I would like to thank Linda who brilliantly prepared all the Roma awareness week plans and materials, overcoming a few challenges on the way. Thank you, too, to Karolina and Eileen for helping to prepare the assembly. To Anise, who helped with translations, contacts and the assembly. To Martin, who helped with the website and translations and to Tatana who created the beautiful posters. Last, but not least, huge thanks go to Kryštof who edited the whole concert in less than a week despite all the technical difficulties. We are also grateful to Ms Švejdová who stuck with us during everything and to Ms Hatinová who helped us to put the concert together.'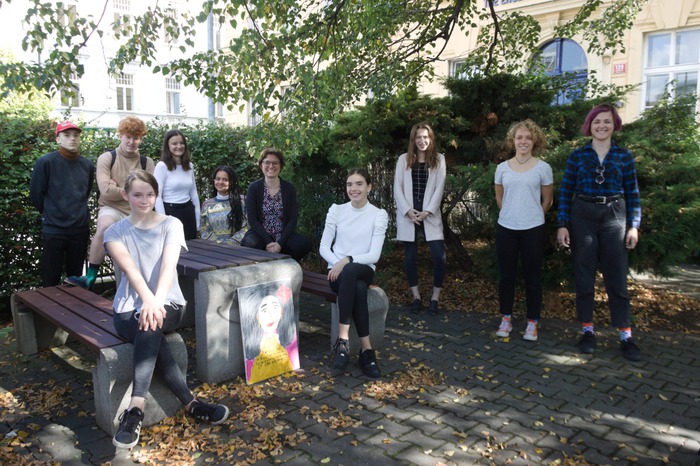 Putting Something Back
Dr Brown says: 'I would like to congratulate Kryštof and Selma and the whole Václav Havel Scholarship Team on an amazing concert. When the English College Foundation established the College, back in 1994, one of the guiding principles of our first Chairman of Governors, Lord Holme, was 'putting something back'. He would have been delighted to see how willing our students are to work together as a team for a common goal. They put on a great concert, which was not only very enjoyable, but which showed us why it is important to provide another scholarship for another Roma student.'
Change a life
And it's not too late to help change the life of a young Roma student. You can still make a donation via The Václav Havel Scholarship website and if you missed the live streaming of the concert, you can see it here: The 2021 Václav Havel Scholarship Concert.