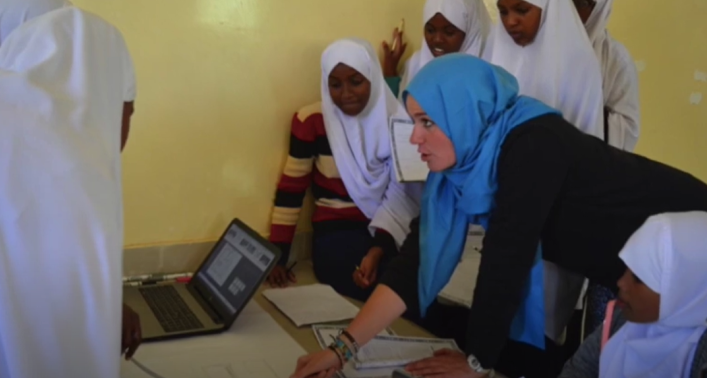 Katie Chlumská on Working with NGOs
We often say at the ECP that helping others is in our DNA. This is a lesson that Katie Chlumská certainly learned during her time here. In the latest addition to the Careers Video Library, Katie has recorded a fascinating account of her experience working with NGOs. She combines a collection of wonderful photographs from working in the field in the Palestinian Territories, Nepal, China and Somalia with some very useful advice for current students.
ECP's support for good causes
After graduating from the College in 2008, Katie achieved a BA in International Relations at Exeter University. She followed this with an MA in Global and Comparative Politics at Queen Mary University of London. It was while at university that Katie converted her love of helping other people into a passion for development work. It all began at the ECP through raising money and awareness for the good causes our students support. You can read more about ECP's charity work on our website.
Visit to speak to students
Some of our students will remember Katie coming into school in 2018 to talk about her work at the time. She was Deputy Head of the Abaarso School of Science & Technology in Somaliland, an NGO school funded by the Horn of Africa Education Fund / USAID.
After three years in Abaarso, Katie returned to Prague. She was offered a job at the Ministry of Education in the International Affairs, EU and ESIF department. Here, as a project/financial manager, she is able to put her practical experience in the field to good use. Although currently taking a break from frontline development work, Katie says: "I may be working behind a desk at the moment, but I am still fulfilling my need to contribute positively to the community, though it is a very different kind of help, and less 'hands on' than I have been used to. And while I am glad to be with my family in Prague during the pandemic, we'll see what the future holds."

ECP Community Spirit
You can see Katie's video here. She has very generously, in true ECP spirit, offered to answer students' questions about her career. So if you would like to know more about her work, you can email her on: katie.chlumska@gmail.com