Global School
THINK GLOBALLY, ACT LOCALLY
Being an active and responsible citizen of a global world is the most pressing challenge of today's world.
ECP is therefore very proud that it is part of the Global School project organised by the organisation People in Need and supported by the Czech Ministry of Foreign Affairs.

The project gives students an opportunity to play an active role in making the world a better place.
It aims to help students to understand the differences and connections between developing countries and developed countries and it should support students' understanding of the cultural, economical, social, political and environmental processes that influence differences or connections in the global world. Students who are involved in the project develop their critical thinking and also other skills that enable them to act, to explore, to challenge, to cooperate and to respect.
Read more about the Global School project in the :more programme booklet.
Literary Festival
Every year, an exciting Literary Festival, celebrating the joy of reading, is organised by a team of ECP staff and students from diverse academic disciplines. The Festival lasts for a whole week and includes an exciting range of stimulating activities intended to introduce students to a wider variety of authors and genres and to help them develop a deeper interest in reading for pleasure.
National and international authors are invited to speak and to lead workshops with the aim of inspiring our students and helping them to discover new ideas. Previous speakers have included: Harry Baker (poet), Mary Coulson (journalist), Nick Arnold (author), Stanislav Lhota (scientist) and Rene Nekuda (author), Ivan Klíma (author), Petr Chudožilov (author), Stewart Moore (author), Dr Martin Elbe (economist) and many more…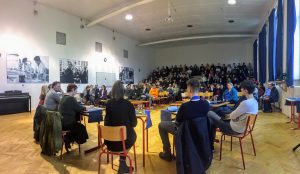 Annual Debate
Every year we organise a debate on a particular pressing theme or on a topic connected with the Theme of the Year. Distinguished external guests – specialists in their field – form the panel, together with students and teachers. The subject is discussed and explored in tutor time before the debate takes place so that students have enough information and can make better judgements.
Many discussion topics are controversial, which is a great opportunity to test our open mindedness and tolerance. Thanks to the debates, students learn that having different opinions is not a problem, but what makes it problematic is a lack of good will to understand each other and a lack of mutual respect.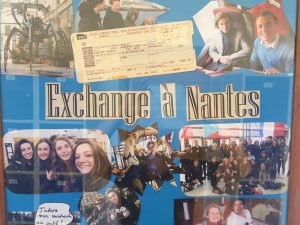 Exchange
Studying foreign languages would not be effective without exploring cultures and countries, where the languages being studied are spoken. Young people naturally love meeting their peers despite the language barriers, which is a good basis for an exchange programme.
For many years we have been organising a French Exchange and we have established a strong relationship with the Lycée Notre Dame de Rezé in Nantes. Every year our students spend a week with French families and then the French students come to Prague and enjoy the hospitality of our students' families. French and Czech students also sample the education that the other school provides as they attend some classes during their stay. Both the French school and the ECP prepare interesting cultural programmes so that the exchange is a very enriching experience for all those involved.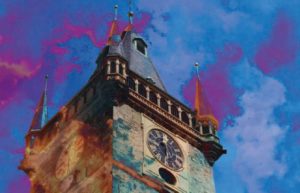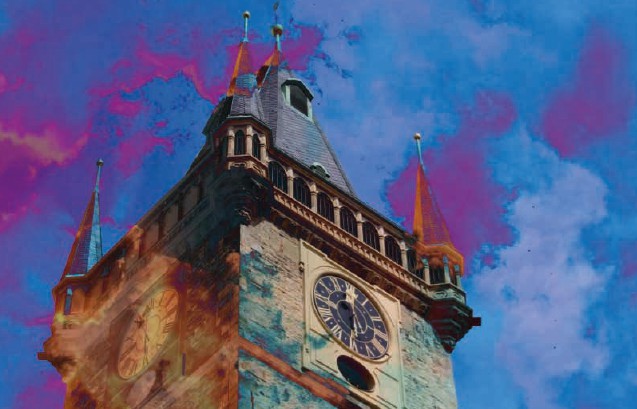 Theme of the Year
At the end of each academic year, the school community decides on the theme that will be explored throughout the following school year. The theme is reflected in many activities and school events. It appears in the teaching of all subjects, which enables students to observe its complexity. Exploring a particular theme also gives teachers the opportunity to explore cross-curricular connections.
Departments organise Theme of the Year competitions, among which the art competition is particularly popular. There are also lectures connected with the theme and the annual debate is usually the highlight of the year's theme-related activities.
Amongst the themes we have explored in previous years are Czech and British Connections, Internationalism, the Natural World and Technology.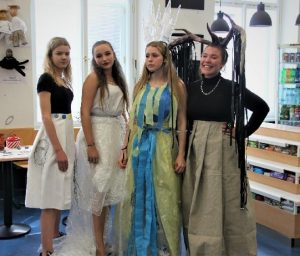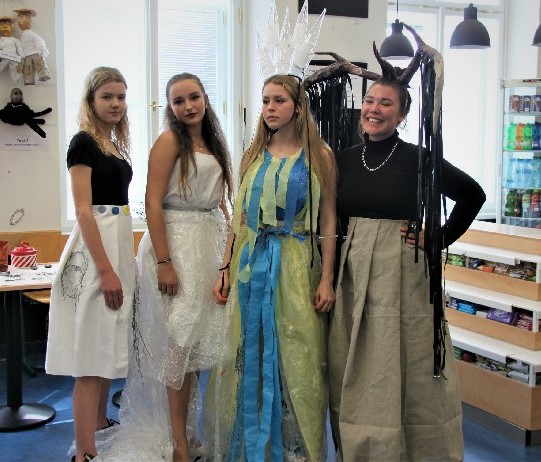 Festival of The Arts
Creativity is at the heart of education and this also applies at ECP. The College has many talented students and they can develop their talents in a wide range of activities. But creativity should be developed in every student and above all, it should be enjoyed and celebrated as much as possible.
The Festival of the Arts is our way of celebrating creativity. Every Spring students in Years 1 and 2 take part in various workshops led mainly by external specialists – in drama, music, art and dance – for two days. They are advised to choose the workshop that they would normally never choose because they might be surprised to find how enriching such an experience is and enjoy the simple pleasure of creating.
At the end of the second day, there is a big performance where students show the others what they have learnt in the workshops. During the final afternoon, there is also the official opening of the exhibition of Festival art work and other art work produced by Year 1 and 2 students.
And there is one additional benefit of the Festival – students from Years 1 and 2, while creating art together, also create new friendships.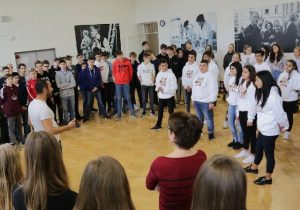 Awareness Week
During the school year, we explore a range of different themes through our tutor time programme and assemblies. Students have the opportunity to express their opinions and also to learn about various topics, perspectives and ideas through a variety of activities.
This is the list of awareness week topics:
Leadership
Mental Health and Mindfulness
The History of the ECP
Democracy and Human Rights
Families and Healthy Relationships
Safeguarding and Internet Safety
Technology
Diversity and Equality
International Environment
Pride
Nature and the Environment

Work Experience
We run a competitive work experience scheme, where each year a number of our students spend time in a working environment in Prague or in London. Previous students have experienced the world of work in places as diverse as the House of Commons, Chatham House, the Orange Tree Theatre, a GP's surgery, and legal and investment firms in London, to blue chip companies such as Deloitte and local NGOs in Prague. All this puts our students in the best possible position to achieve a fulfilling career in the future.
Our London Work Experience Programme is now in its 13th year. It is run by the English College Foundation, the charity that set up and still supports the English College in Prague. It gives Year 6 students the opportunity to spend October half-term in London, on a placement in a field in which they are considering making a career. We are very grateful to our Chairman of Governors, Ann Lewis, who coordinates the programme and to all our supporters in the UK who provide the placements and accommodation.