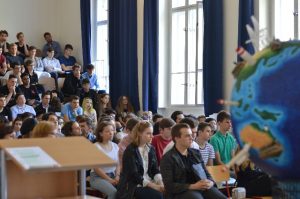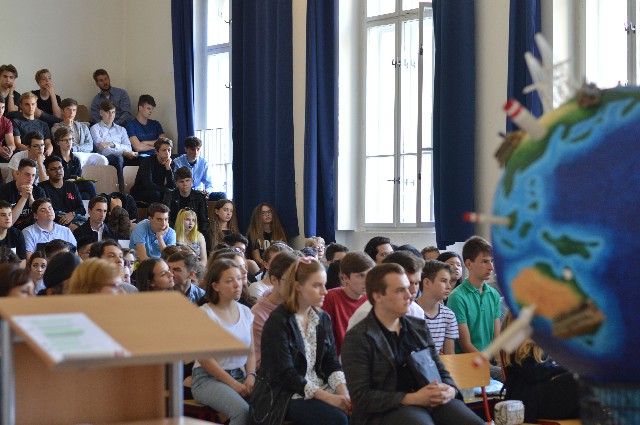 Subject Lectures
From time to time, individual departments organise lectures about a particular theme in their subject. These are attended by whole year groups or by students who are interested in the topic. Thanks to the enthusiasm of ECP's departments, our school has benefited from lectures given by many specialists from the academic world such as historians, economists and scientists.
Here are a few examples:
Economy: Future Business Leaders, Bloomberg Professional
History – Terezín during World War II
Czech – Hrabal Fiction
Science – Career in Science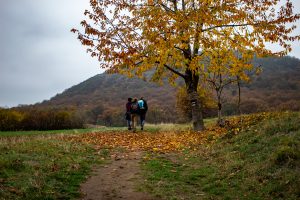 Subject Trips
The English College is an academic school and therefore effective teaching and learning is our priority. Teaching does not take place only in the classroom, but also elsewhere. Almost all Faculties organise educational trips in Prague – as part of Prague Programme – and also around the Czech Republic. This gives students an exceptional opportunity to connect what they have learnt in school with real life situations.


Czech
Every year, the Czech Faculty takes students on a literature trip, such as the Mácha or Karel Čapek Trip. Students visit the places connected with the author's life, read texts written by or about the author; they read their correspondence, but above all, they discuss their unique life stories and the impact of their literary work. Discussions that take place in a beautiful natural setting have a very special flavour and make these trips unforgettable both for students and their teachers.
English
Whilst opportunities for English language and literature trips in Prague are limited, we take Year 1 students to the Old Town to research and produce brochures and guides for tourists. In addition, a member of the department runs the Theatre-going ECA and we are planning to revive our trips to the UK. In past years, upper school students have been involved in trips to Bath and to the Cheltenham Literature Festival.
Arts
Various trips and excursions are organised by the Arts Faculty, under the Prague Programme. The faculty makes excellent use of the cultural institutions available in the Czech Republic and further afield. Trips in the Visual Arts have previously included Dresden, Vienna, Venice, Rome, Amsterdam and Paris – allowing students to enrich their cultural appreciation and expand their visual understanding by viewing both traditional and contemporary art forms.
Modern Languages
The Modern Languages Department organises four trips every year, one for each of the foreign languages we teach:
A trip to Russia, normally in Term 1, visits either to Moscow or St Petersburg. It is a largely cultural visit because the students' language skills are still at an elementary level.
A German trip to Berlin is organised for Year 3 students every year. This is a mixture of language and cultural activities, with students visiting the key tourist sites in the German capital. They learn a lot about German history, and it complements their studies of the First and Second World Wars as part of their History course.
The French Exchange is organised annually. French students visit us in one term, and we visit them in Nantes the next. This is an excellent opportunity for our students to experience life in a French family.
There is an annual trip to Spain and students visit Madrid or Barcelona, where they have a chance to practise their language skills and learn a lot about Spanish culture.
Humanities
The Humanities Faculty organises a number of trips each year. These are mostly day trips to local places of interest, such as the annual visit to the Škoda factory, which is run by the Geography Department or our History students' walking tour of renaissance sites in Prague city centre.
Most years there is a also an overseas tour visit to the battlefields in northern France. This gives students the opportunity to enrich their understanding of the First World War. There is also a trip to the Sudetenland, as a part of the start of year trips programme. This affords our students a unique experience of talking with veterans from both sides of the Second World War in this most turbulent area of the conflict.
Science
As an integral aspect of both the IB and Pre-IB courses, students monitor, analyse and evaluate conditions in several local ecosystems. They investigate how changing abiotic factors affect the abundance and diversity of local flora and fauna. This helps the development of their knowledge and understanding of human effects on ecosystems and inculcates a wider appreciation of both the fragility and resilience of natural systems.
Library
In preparation for the completion of their Extended Essay, Year 5 students visit the National Technical Library (NTK) in Prague to learn about the facilities on offer and to complete a workshop on how to retrieve, evaluate and use the resources that they can access through their membership of the NTK.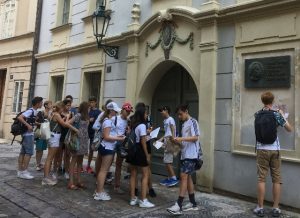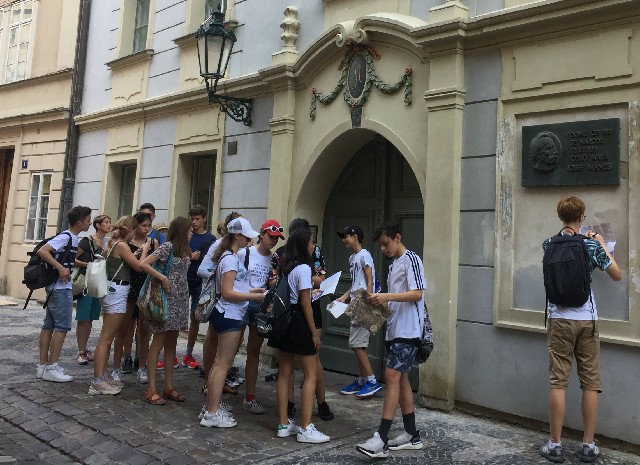 June Educational Trips
Our school year is framed by trips. While at the beginning of the school year students in Years 1- 4 go on induction trips, the end-of-year trips are more educationally focused. Students in Year 1 sample a DofE expedition. They also learn how to read maps and all students go on an intensive First Aid Course. One day is dedicated to the Prague Programme, in which students explore Prague's Old Town and its medieval past.
The PE Department organises a CCC trip for students in Year 2. Students learn and develop skills needed for camping, canoeing and cycling in a beautiful area of Šumava by Lake Lipno.
Year 3 students are taken on a Science trip to the Jeseníky mountains. They visit a paper factory in Velké Losiny, a power plant in Dlouhá stráň and explore the Jeseníky countryside.
It is obvious that subjects such as History, Science, Literature, Art, Geography and Biology are all "in action" during these trips. Students can appreciate not only that knowledge they gain in school can be used outside the classroom, but also that everything they learn during the trips will help them to understand what they are taught back in school.
All trips also play another important role in school life – they enable students and teachers to spend time together in an informal setting. Thanks to the trips, students and teachers learn more about each other and develop friendly relationships.
Year 1 Adventure and Culture trip
Year 2 CCC basic trip
Year 3 Science trip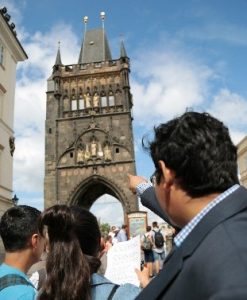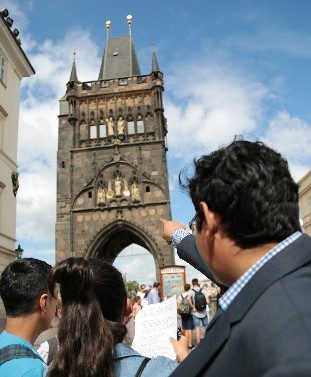 The Prague Programme
Prague is not only a beautiful city, which is now visited by thousands of tourists, it is also a city where you can see and feel not only the history of the Czech Republic, but also of Europe. King Charles IV made Prague the centre of Europe, founded a university here and built what was then a modern town.
To artists, Prague is a place of many galleries and amazing art collections of every period. It is a place that can serve as a textbook of architecture. Prague's museums house collections from every area of knowledge. Its public and botanical gardens are workplaces for academics as well as places for recreation. In other words, Prague offers endless possibilities for exploring and learning. This is why we established the Prague Programme and each department prepares a programme for students, related to Prague's unique facilities. Czech students visit the Kafka Museum, students studying Czech History explore Vyšehrad, the Science Department arranges visits to the Technical Museum or the botanical gardens, while Art students visit galleries and art workshops and a Prague treasure hunt is organised for Year 1 students.
By the end of their studies at ECP, our students therefore know Prague much better and also know a lot about Prague – which, as students of the English College in Prague, they should!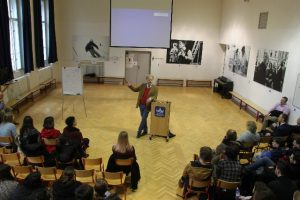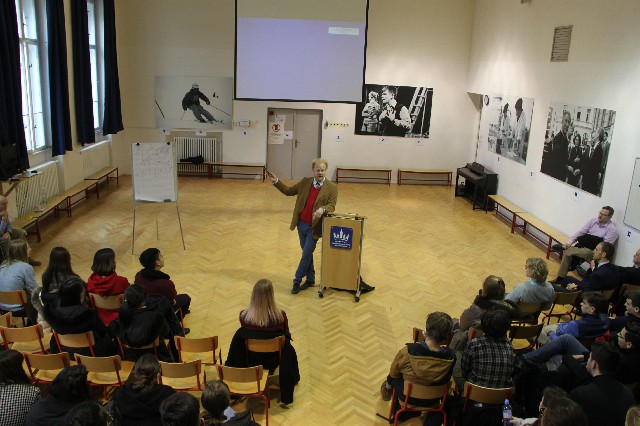 The Lecture and Talk Programme
It is very important for young people to meet, at the right time, someone who can inspire them in their lives and be a role model. In order to enable our students to meet a range of interesting people, we organise a Lecture and Talk Programme, which has become an important tradition at the ECP.
Over the years. we have invited into school many specialists in their field – to talk about their professions, projects or just to share their life stories with the students. We are proud that in recent years, former students who have fascinating careers have been amongst the speakers.
There are usually four guest speakers annually and lectures are often connected with the Theme of the Year. Each lecture is followed by a discussion and although . the programme is primarily designed for students in Years 4 and 5, students from other years are also welcome to attend if they are interested in the topic. The lectures are also a good opportunity for TOK-style discussions. Students and their tutors discuss the topic before each lecture and then follow it up again after the lecture has taken place.
See the overview of the Lectures and Talk Programme.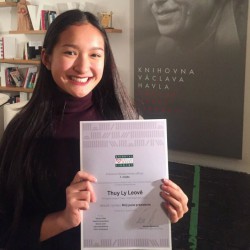 Outside School Academic Competitions
Some students have particular talents and it is very important to support them in developing those talents. This is why we encourage our students to take part in many external school academic competitions. We are very proud that ECP students have twice won the Václav Havel Library Essay Competition and that we have also had very good results in various subject Olympiads. Our students are also regularly successful in the UKMT Maths Challenges, and several have achieved high enough scores to take part in the invitation-only Kangaroo challenges.
Information about these competitions is available in the Student Bulletin, with all relevant links, and posters publicising them can be found on the :more notice board.
Competitions ECP students have taken part in:
COBIS Poetry Competition
Lingvistická olympiáda
Olympiáda v českém jazyce
Ekonomická olympiáda
Student Investor Challenge
Logická olympiáda
British Biology Olympiad
Shake Me Up Shakespeare Online Festival
Regent's University (London) Fashion Competition
UKMT Maths Challenge
Grey Kangaroo
Pink Kangaroo