As we start the new academic year, the English College in Prague is looking forward to welcoming our students back to school. Especially welcome are the new students joining us for the first time to begin their journey to the IB Diploma.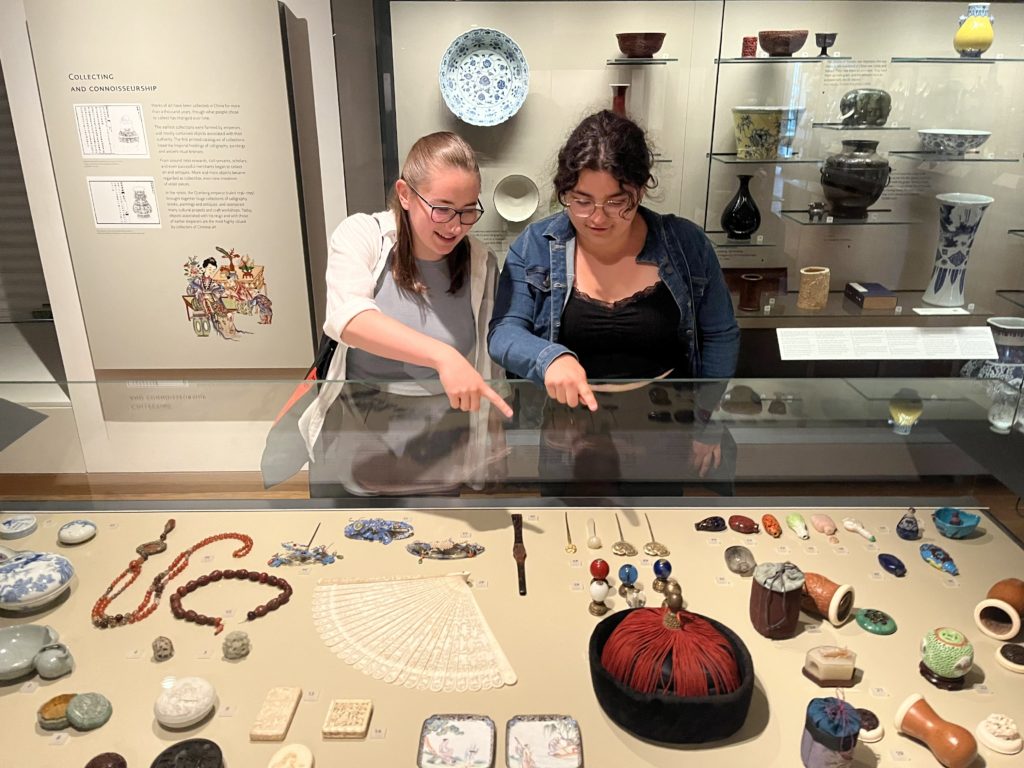 Studying the exhibits at the Ashmolean Museum during the Oxford trip
But September is also a time to think about this year's graduates as they prepare to begin their university studies.
IB Results
This summer's IB results were our best ever. All ECP students are able to sit the IB exams, not just those most likely to do well. This is what happens in some schools where only the top students can take the IB with the majority sitting only the Maturita. So for us to achieve an overall average of 37* out of a total of 45 across all 71 students in the year really is outstanding. *Compared to the world average of 30.24
Huge congratulations to all our graduates and their teachers on this amazing achievement. We are also delighted that three students scored the maximum 45 points. Only 179 students throughout the whole world, out of the nearly 180,000 who took the IB Diploma this year, achieved this exceptional feat.
Off to University!
So ECP graduates are now heading off to some of the most prestigious universities around the world. One of them is Dmitry Cheremisin who will be studying Economics at the University of Cambridge. Every year, the English College always sends at least one student to Oxford or Cambridge. This is partly as a result of the additional work we do throughout their school careers to help those who want to study there.
The Oxford Experience
This starts with Year 4 students when we organise a trip to Oxford, led by Deputy Head Laurence Baxter. Laurence comes from Oxford and has himself studied at the University. We were very grateful to four of our graduates for joining us in the grand surroundings of the Oxford Town Hall's Council Chamber They led a session about studying and working in Oxford and the UK. We were also delighted to be joined by Councillor Ed Turner, Deputy Leader of Oxford City Council.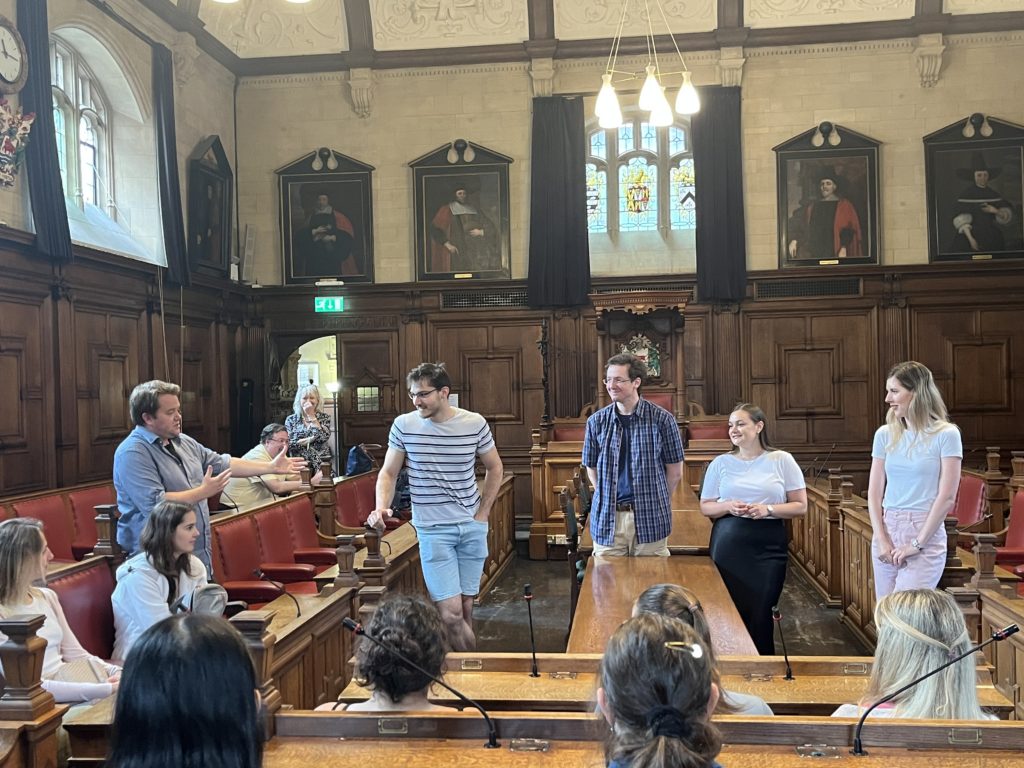 Kryštof Sršeň (2021), Filip Němeček (2014), Nella Bestová (2017) & Michaela Sommerová (2015)
One of the ECP graduates who joined us was Filip Němeček. Filip first studied Geography at St Andrew's University in Scotland. He then moved to Oxford University to take his Master's, where he is now studying for a PhD.
The City of Harry Potter, Alice in Wonderland and The Hobbit
As well as introducing students to the possibility of studying at Oxford, the trip enabled them to experience the history and tradition of Christ Church College, the Bodleian Library, the Ashmolean Museum and the Sheldonian Library. The Bodleian Library is famous for housing a vast collection of books and manuscripts. Our students impressed our guide by answering one of his questions faster than anyone had ever answered it before!
Christ Church College was immediately familiar to all Harry Potter fans. It is one of Oxford's most historic colleges and was the setting for Hogwart's Great Hall.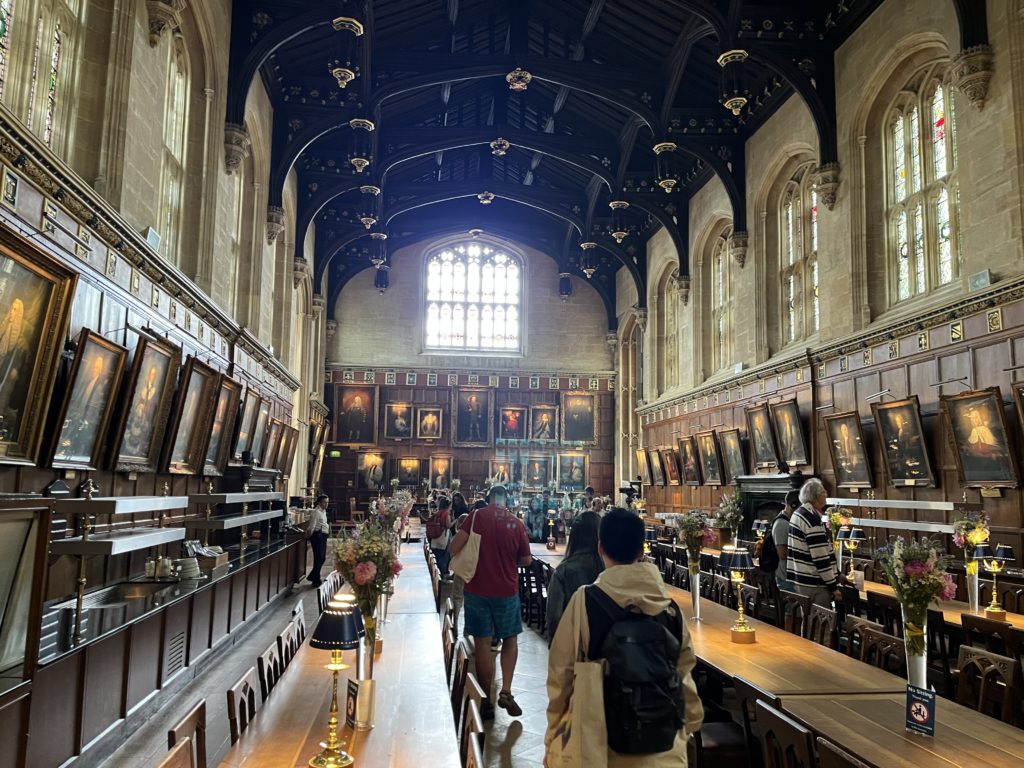 Christ Church College, which was used as the location for Hogwart's Great Hall
Oxford is well known for the famous figures who have passed through its colleges, including the mathematician Charles Dodgson. The Reverend Dodgson is better known by his pen name Lewis Carroll. Inspired by the College's magical surroundings, he wrote 'Alice's Adventures in Wonderland' during his time at Christ Church. J R R Tolkein was also a professor there.
Our students were able to see how the Oxford University college system, with its separate colleges functioning as individual communities within the larger university, encourages academic excellence and a strong sense of identity.
But as well as history and tradition, students were also able to enjoy the more modern delights of Oxford's vibrant shops and restaurants and to watch undergraduates rowing on the Thames.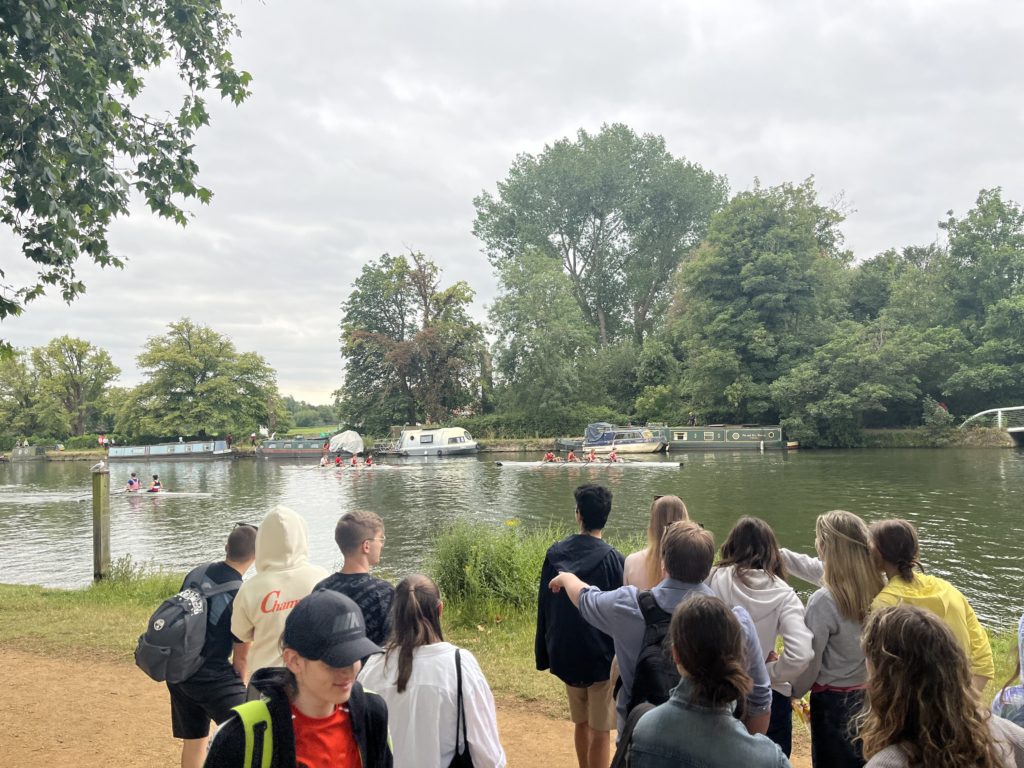 Watching rowers on the Thames
UNESCO World Heritage Site
Students also visited Blenheim Palace – a UNESCO World Heritage Site – with the journey to the nearby town of Woodstock on a double-decker bus an event in itself. It is one of England's most significant Baroque grand houses. The ancestral home of the Churchill family for over 300 years, it was the birthplace of Sir Winston Churchill, one of Britain's most iconic leaders.
ECP Oxbridge Graduates
The trip was, for most of our students, their first introduction to Oxford and the possibility of studying there. Our next Oxbridge event will be later this month when some more of our graduates who studied at Oxford or Cambridge are coming back into school to answer current students' questions and to inspire them to follow in their footsteps.